The blue cat design goes viral
In August 2020, Bryansk Dairy Plant in Russia re-branded and re-launched its Milgrad brand.
The painted blue cat concept was the creation of brand-ing agency Depot's Art Director Vera Zvereva, inspired by her own cat Brunhilde. Several poses of the cat have been designed and placed across all sides of the carton. The result enables the cartons to be arranged on a shelf with many display options, where the cat can be seen walking, playing, standing, sitting, sleeping, and in several other actions. Cartons can be placed so the cat can be seen moving from carton to carton, grabbing consumers' attention both in-store and through social media.

Just three weeks after the launch across Russian shelves and on social media, the new Milgrad blue cat became famous in Japan. Consumers went crazy on social media for the cat they called 'kawaii,' sending him viral, with designer Vera Zvereva achieving worldwide acclaim for her "clever as it is adorable" design.

"The dairy market in Russia occupies more than 22% of the FMCG food products sector," explains Pavel Vylegzhanin, Director Market Area CIS, Elopak. "There fore, the designer aimed to create a unique design that would grab consumer attention on shelves and increase sales across all distribution channels. Instead of getting i nventive with green fields and happy cows, the design team has made the milk carton pop!"

"The main detail of the design is the blue cat that travels through the packages, creating different images as cartons are rotated," adds Vera Zvereva, art director at Depot branding agency.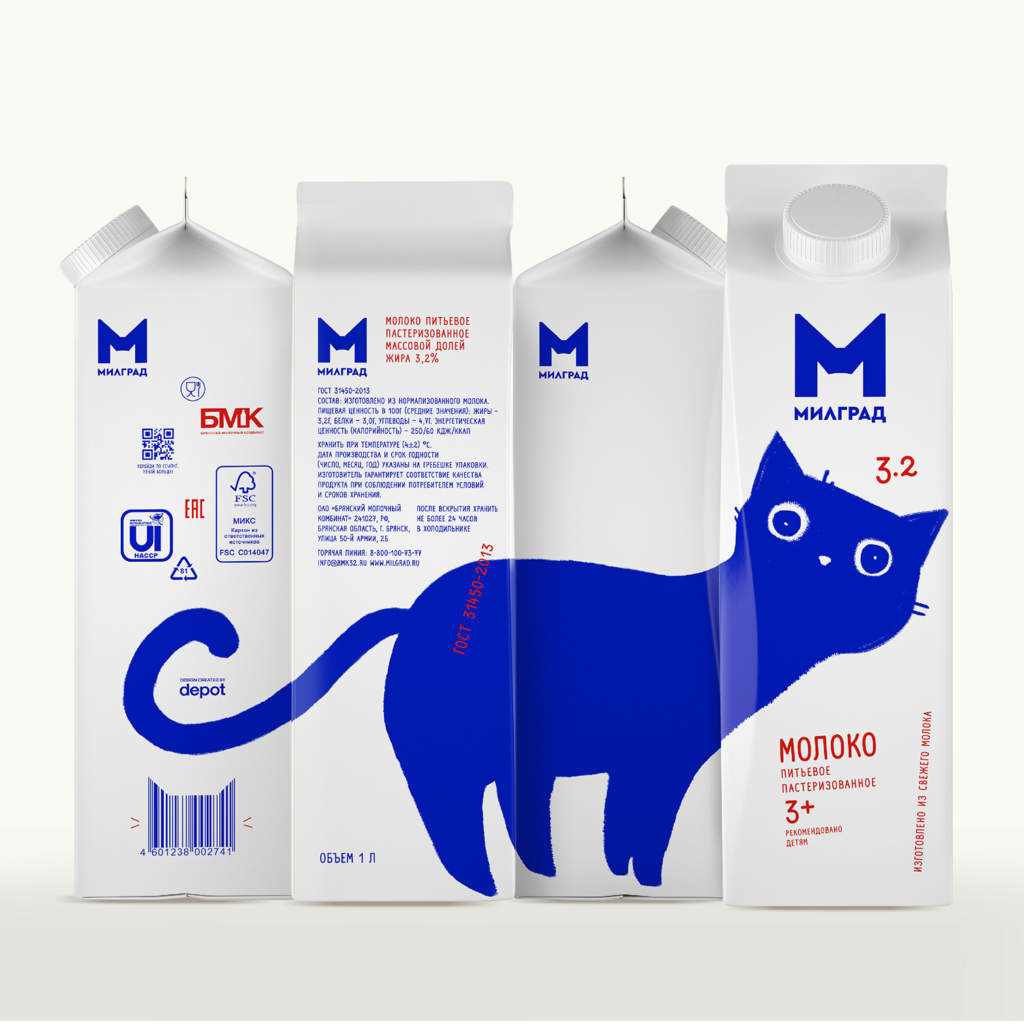 "Although the concept was inspired by our art director and author of the concept, Vera Zvereva's cat Brunhilde, each owner can recognize the habits of his feline pet in the illustrations," adds Daria Vedernikova, communica-tions, and PR director at Depot branding agency.
About the design
Russian art director Vera Zvereva was responsible for this adorable cat- inspired design, which landed on the packaging of four milk products from Bryansk Dairy Plant's Милград (Milgrad) product line.