The Pure-Pak® carton is the naturally sustainable, convenient and consumer preferred alternative to plastic bottles. Conserving liquid foods in cartons instead of plastic bottles is better for everyone, in every way.
Pure-Pak® cartons are primarily made with wood fibers originating from sustainable and controlled forestry according to the most stringent and credible standards available, creating a strong carton from materials that grow back. With our forest-based polymer option, you can have a fully renewable carton, entirely based on wood.
Our cartons keep products fresh using less plastic than alternative containers. We're constantly reducing the plastic content, and you can also go fossil-free with renewable and bio-circular polymers.
Renewable and Easily Recyclable
A renewable raw material is one that can grow back through natural processes, such as trees and plants. Made of materials ready for countless new applications, Pure-Pak® cartons are already fully recyclable. Recycling lessens the need for virgin material and reduces waste, as cardboard, polymers and aluminum can be recycled.
Multiple Life Cycle Analysis (LCA) studies have shown that beverage cartons have a lower carbon footprint than plastic and glass bottles when it comes to packaging products like milk and juice. These figures are even better for beverage cartons made with Natural Brown Board.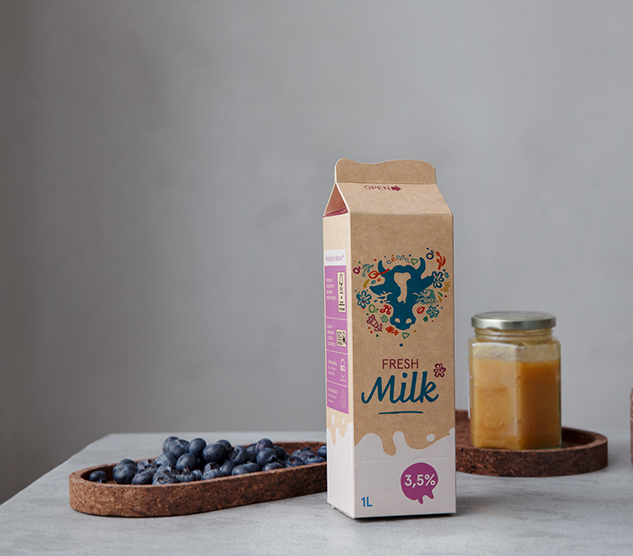 Following the Science
Choosing your next drink packaged in a carton with brown board instead of a plastic bottle is a more environmentally friendly choice
Link to Life Cycle Assesement
Being sustainable is core to our organization and we ensure economic growth without exploiting the resources or the people of this planet. Below is a link to our digital Sustainability report which presents our sustainability approach and information on our progress, as well as several examples on how we provide a natural alternative to plastic bottles around the world.