Biodiversity and the Packaging Industry
This EU Green Week Elopak reflects on the important role of the packaging industry in working to protect and restore biodiversity.
By Marianne Groven, Elopak Director Sustainability
This year's EU Green Week focuses on the theme of nature and biodiversity following the EU's recently launched Biodiversity Strategy for 2030. This focus is timely. Biodiversity, the variety of life on Earth, is critically important. We rely on it for our health, food and security; it is fundamental to our well-being. We are not just dependent on it, but part of it. Yet biodiversity loss is taking place at an unprecedented rate, threatening our future.
WWF recorded an estimated 60 per cent fall in wildlife populations between 1970 and 2014. It is clear that in 2020 we cannot afford to continue with business as usual.
Sustainable Sourcing
The packaging industry has an important role to play when it comes to stepping up on biodiversity. If cartons are going to live up to their reputation as an environmentally friendly alternative to plastic bottles, then a focus on sustainable sourcing is essential.
Forests contain 80 per cent of the world's terrestrial biodiversity. They are also the second largest carbon sink after the oceans. Between 1990 and 2015, the world lost 129 million hectares of forest. The destruction and degradation of forests worldwide leads to an increase of the atmospheric CO2 concentration and is devastating to both the climate and wildlife.
Elopak cartons consist of on average 75 per cent paperboard. Responsible forest management is therefore central to our operations. In order to ensure long term access to raw materials and help conserve natural resources Elopak sources this paperboard from forests where there is net growth. For example, in Finland and Sweden, our main countries of origin of fibers, the annual forest growth is around 4 per cent, while harvesting is 2.8 per cent. That means a 1,2 per cent net growth of forest each year. For each tree harvested, our suppliers make sure that at least three new seedlings are planted.
Additionally, we do not take out trees as such, to make cartons. We utilize the secondary product from main forestry, to make our paper-based cartons. Further, we make use of the waste from the paper production for renewable plastic, offering a fully renewable carton while ensuring efficient resource utilization and low greenhouse gas emissions.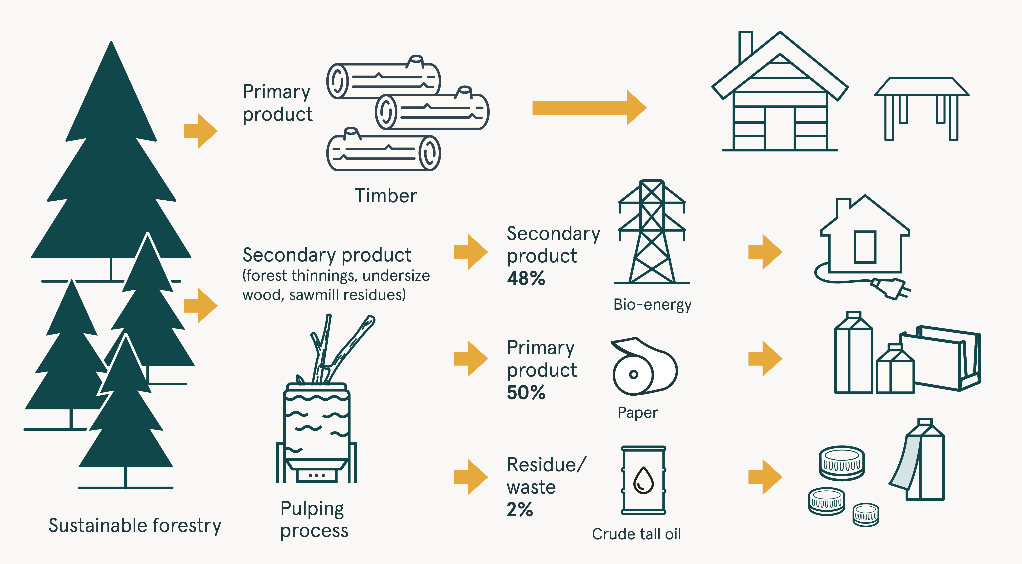 We source all paperboard from legal and sustainable sources in accordance with the standards of the Forest Stewardship Council™ (FSC™) and offer cartons with FSC-certified (FSC™C081801) paperboard.
To improve on current performance, Elopak is working to make 100 per cent renewable materials available in all beverage cartons by 2030. We are also aiming for 50 per cent of all fresh milk cartons to be fully renewable in Europe by 2025 and 100 per cent of all fibres in beverage cartons to be sourced from certified forestry.
The Circular Economy
More broadly, to protect the world's biodiversity there is a need for industry to transition from a linear to a circular model. This not only means minimising raw materials and ensuring they are derived from sustainable and renewable sources, but also working to increase recycling rates and supporting the reuse of materials where possible. The fibres from our cartons can easily be reused for new paper products such as food packaging, cardboard boxes, cores paper or tissues.
While cartons are 100 per cent recyclable in theory, there is work to be done to ensure the facilities are in place to make collection, sorting and recycling practical and easy for the consumer. Elopak participates in a number of industry initiatives seeking to pool efforts to achieve improvements on this score, including 4evergreen alliance, GRACE – The Global Recycling Alliance For Beverage Cartons and the Environment and EXTR:ACT.
Technology is also being harnessed in support of this goal and Elopak is participating in the recently launched HolyGrail 2.0 initiative, which brings together over 85 companies and organisations from across the packaging value chain to improve recycling through the use of pioneering digital watermarks.
Net Zero
The impact of climate change on biodiversity can be devastating, with even small changes in average temperatures having a significant impact on ecosystems and threatening the habitat of countless species.
When it comes to packaging, we can only truly claim it is sustainable if we also look to minimise and offset carbon emissions relating to its production and journey through the supply chain.
Having reduced internal emissions by 70 per cent between 2008 and 2018, we are seeking a further reduction of 55 per cent by 2030 in line with our commitment to the Science Based Targets initiative. By using renewable plastics in cartons and closures Elopak has already avoided 12,000 tonnes of GHG emissions.
In addition to these reductions Elopak offsets the remainder of its emissions and we are committed to maintaining the carbon neutral status that we achieved in 2016. In recognition of the importance of biodiversity Elopak offsets a portion of its emissions through the Rimba Raya rainforest protection project, which protects the local rainforest and the orangutan population in Borneo, Indonesia. In this way we are able to not only minimise our footprint, but also contribute positively towards conservation efforts.
In 2020 it is clear that the food industry must work in a way that safeguards and promotes biodiversity. The need to protect the planet and nature in order to protect people is widely understood and increasingly consumers are demanding products that uphold this commitment. Packaging is an important piece of the puzzle. As we look beyond the COVID-19 pandemic and towards the 2021 Conference of the Parties (COP 15) to the Convention on Biological Diversity, the industry must be ready to show how it can play its part in protecting and restoring biodiversity.