Don Simón first to introduce Pure-Pak® eSense carton
Commercial launch of aluminium-free carton
A leader in the Spanish market for over 130 years, García Carrión is the first to introduce the new Pure-Pak® eSense aluminium-free aseptic carton. The commercial launch of the new carton is with the famous Don Simón brand for its plant-based range, introduced in November in 1 litre Pure-Pak® eSense cartons with Natural Brown Board.

The six Don Simón products, are the first in the world to be launched in the new aluminium-free carton, and will feature soya classic, soya light, soya chocolate, almond, rice and oat drinks.

Elopak launched the Pure-Pak® eSense carton in line with its ambition to promote a net zero circular economy for packaging; driving the transition from plastic bottles to fully renewable, low carbon cartons. The new carton is aluminium-free and instead made with a polyolefin blend barrier. This results in up to 50% lower carbon footprint than a standard Pure-Pak® aseptic carton* and full recyclability where infrastructure exists.

Takes care of you and the Planet
The Don Simón was first launched in Spain in 1980, and has grown to be the country's number one beverage brand with the motto "Takes care of you and the Planet". Elopak has partnered with García Carrión for many years, and for this latest milestone has collaborated to create a 360º digital experience, aimed at educating consumers in a fun and interactive way about the benefits of the new carton through a webapp triggered by scanning a QR code on pack. Consumers receive points for participating and sharing content on their socials with a prize draw as a further incentive.

The innovative range of Don Simón plant-based drinks are responding to consumer demand motivated by concerns for diet, health and sustainability. Consumers can make more choices from this popular brand from November as the new products have hit the shelves. They are packaged in the Pure-Pak® eSense cartons with Natural Brown Board and a distinctive transparent cap based on renewable raw materials from the forest. García Carrión also selected carbon neutral cartons and all the packs feature the CarbonNeutral® logo.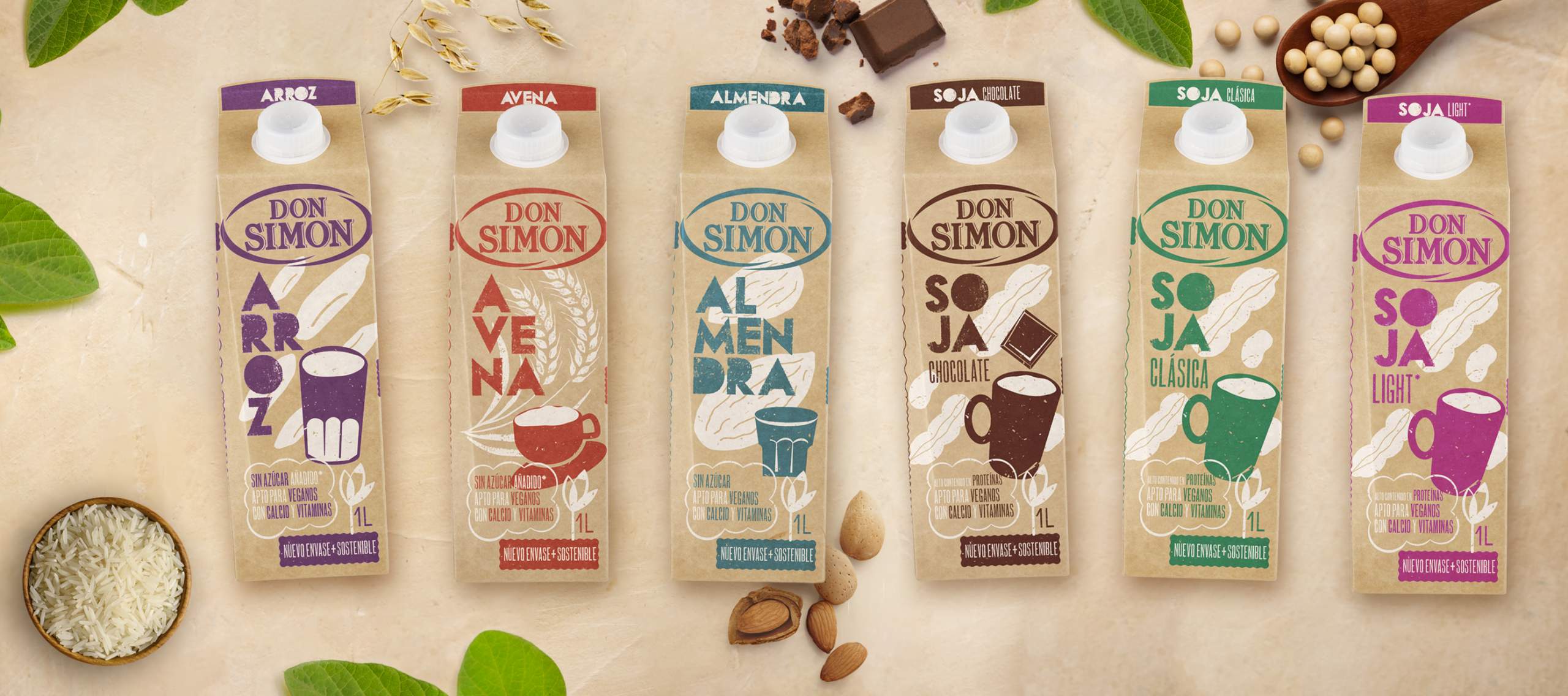 The first carton for plant-based ambient beverages without aluminium
Speaking at the Connected Packaging Summit 2022, García-Carrión said: "Packaging is a key strategic element for us and we choose partners instead of packaging suppliers in order to drive innovations and develop the latest and most exclusive solutions. This new development with Elopak is the first carton for ambient beverages without aluminium. All its features are totally aligned with our Don Simón environmental targets of zero waste and net zero emissions.

"It has been a long journey to achieve this new milestone in sustainable packaging, but we are not at the finish line yet. We want to push the bar even higher even above the latest legislation requirements to truly match what the consumer is demanding," assures family-owned García-Carrión.
Connected Packaging – learning by playing
The campaign uses the latest technology in 'connected packaging' and has been launched with some teaser marketing tempting consumers with the strap line "Caring for the Planet, comes with a reward".

"Connected packaging allows us to establish an interactive communication channel with consumers where we can also learn more about them and what really matters to them. Through the connected experience we have the opportunity to make them part of our brand journey, of our product experience of transforming passive products into experimental and interactive touch points – we call this learning by playing," claims García-Carrión.

Source:
*Based on internal, third-party reviewed cradle-to-gate calculations from the Dynamic Elopak Environmental Performance (DEEP) tool, version11, 2021